Ny bok. The Multilingual Citizen. Towards a Politics of Language for Agency and Change
In this ground-breaking collection of essays, the editors and authors develop the idea of Linguistic Citizenship. This notion highlights the importance of practices whereby vulnerable speakers themselves exercise control over their languages, and draws attention to the ways in which alternative voices can be inserted into processes and structures that otherwise alienate those they were designed to support.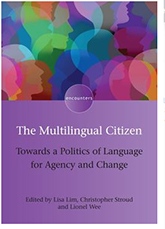 The chapters discuss issues of decoloniality and multilingualism in the global South, and together retheorize how to accommodate diversity in complexly multilingual/ multicultural societies. Offering a framework anchored in transformative notions of democratic and reflexive citizenship, it prompts readers to critically rethink how existing contemporary frameworks such as Linguistic Human Rights rest on disempowering forms of multilingualism that channel discourses of diversity into specific predetermined cultural and linguistic identities.
The Multilingual Citizen. Towards a Politics of Language for Agency and Change
Edited by: Lisa Lim, Christopher Stroud, Lionel Wee
ISBN: 9781783099641
Publisher: Multilingual Matters
Senast uppdaterad: 28 februari 2018
Webbredaktör: Pia Nordin
Sidansvarig: Christopher Stroud