Högre sem./Centret. Maryann Su Lin Tan: Understanding speech perception (research)
EVENEMANG
Datum:
10 december 2019 15:00
-
10 december 2019 16:30
Plats:
D480
Understanding speech perception (research): Modelling adaptation to foreign accents. Maryann Su Lin Tan är doktorand i tvåspråkighet.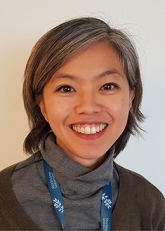 Native listeners often experience processing difficulty when listening to foreign-accented speech. This shows in slower processing times and decreased accuracy, especially in noisy environments. With increasing exposure to unfamiliar accents, this difficulty diminishes, suggesting that speech perception is to some extent adaptive. My research seeks to understand the mechanisms underlying this adaptation as well as its limits. There is now also evidence that even short exposure to an unfamiliar accent—sometimes just minutes of speech—leads to detectable improvements and that the improvements can persist over time. However, the mechanisms that underlie this ability remain largely unknown. My thesis research explores the hypothesis that adaptation to an accent can be understood as implicit distributional learning, specifically of the statistics of a talker's category-specific cue distributions.
I present a pilot study on the perception of L2 Swedish syllable-final stop voicing (e.g., röt vs. röd) by native listeners of Swedish. I compare listeners' perception of a Flemish-accented talker, after lexically-guided exposure that either does or does not contain information about how that talker produces final stop voicing. Recent studies using similar paradigms have found changes to how speech tokens within a category are perceived, indicating within category restructuring (Xie et al., 2017). This finding supports distributional learning accounts which postulate that listeners track statistics of talker acoustic phonetic cues and update their categorical representations probabilistically. However, two unpublished studies (incl. my own) have failed to replicate this benefit of exposure. One reason for this might be differences in the statistics of the non-native speech stimuli used in the different studies. To address this possibility, I present analyses of production and perception data from my pilot. I ask whether the same distributional learning model correctly predicts detectable improvements after exposure where they have previously been experimentally observed (Xie et al.) and predicts no such improvements where they are not observed (my pilot). This work presents one of the first efforts to directly and quantitatively link the statistics of non-native speech to predictions about its perception. I will walk through the assumptions behind the computational model of speech adaptation that I employ.
Senast uppdaterad: 29 november 2019
Webbredaktör: Pia Nordin
Sidansvarig: José Alemán Bañón